Mission Statement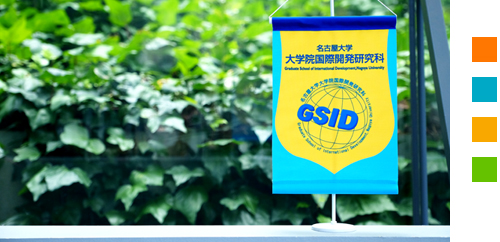 The Graduate School of International Development (GSID) pursues a mission to promote understanding of the problems we face in the globalizing world and to create a sustainable society by contributing to policy-making and implementation by international organizations, governments, and civil society organizations. In order to find solutions to contemporary problems, technical approaches are often not enough. We need to understand the existing policy frameworks and apply innovative thinking based on social science perspectives. GSID thus attempts to cultivate courageous intellectuals capable of finding such solutions by promoting policy-oriented, interdisciplinary research and teaching in cooperation with a network of academic and research institutions and implementing agencies. Our objectives are as follows:
Promote empirical research based on social science theories and methods that can inform the policy-making and implementation processes of the international community, governments, and civil society;
Train professionals who can contribute to state- or community-building cooperation with the international community and with a full understanding of national and local realities;
Expand our worldwide network with governments, universities, and international organizations through research and teaching in order to realize sustainable development and just societies on the global level.
Features
Promoting Practical Education

One of the outstanding features of GSID as a graduate school is that it emphasizes practical education by offering Overseas Fieldwork (OFW) and Domestic Fieldwork (DFW). Every year, more than 20 students in the Master's program spend about two weeks in a developing country, to learn project design methods and to acquire communication and research skills in a group setting, interviewing skills, and writing skills. Also, GSID facilitates internship opportunities and promotes high-level practical education programs for doctoral students.

International Students and Students with Work Experience

International students, who make up nearly 70% of the student body, are attracted to GSID because of its excellent academic reputation and various courses, many of which are conducted in English. This has led GSID to being designated as an educational institution for the Asian Development Bank – Japan Scholarship Program (ADB-JSP) and to being entrusted with such JICA projects as Japanese Grant Aid for Human Resource Development Scholarship (JDS) and Project for the Promotion and Enhancement of the Afghan Capacity for Effective Development (PEACE). 70% of the student body also has work experience (this includes housewives). With students coming from more than 40 countries and with many having work experience, GSID provides an ideal environment for students to exchange opinions with those of different cultural and career backgrounds.

English as a Medium of Teaching

Our Master's program is designed to be accessible to English speaking international students. The entrance examination is given in English, and the classes, with a few exceptions, are taught in English. Students are therefore able to get the credits required to complete the course using only the English language.

Diverse Disciplines in Social Sciences

GSID's faculty members specialize in various academic fields within social sciences related to international development and cooperation. Furthermore, GSID aims to promote interdisciplinary approaches to research and to contribute to relevant disciplines surrounding international development studies.