Global Leader Career Course
Special course for students who pursue a career in international organizations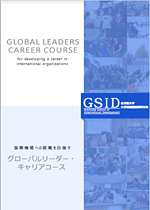 This is a special course for students who wish to work for international organizations such as the United Nations, international NGOs, and international cooperation agencies.
In this course, students are required to earn 10 credits of practical subjects in addition to a minimum of 30 credits required in their thematic programs for a Master's Degree in order to develop five core abilities that are considered necessary to work in the global arena in future.
Another main feature of this course is that it offers career path support for entry into international organizations in various ways such as special lectures and career guidance by senior officials working at international organizations, internships at international organizations, and practice job interviews.
We provide students with sufficient support to help them achieve their career goals and become capable global leaders in future.
Five core abilities the course aims to cultivate
| | |
| --- | --- |
| Practical skill | Ability to convert plans to actions, Management capabilities |
| Onsite skill | Understanding of local conditions, Negotiation skills, Troubleshooting ability |
| Communication skill | Excellent debating skills, Foreign language proficiency, Presentation skills |
| Planning skill | Creative thinking, Assessment capabilities, Ability to make policy recommendations |
| Comprehensive skill | Ability to identify and resolve issues from a global perspective |
Emphasis on practical education to develop ready-to-use skills
Additional subjects focusing on hands-on practices relevant to actual work at international organizations
Learning various approaches used in international cooperation projects and programs implemented in developing countries
Gaining hands-on experience through internships
Multicultural learning environment for an international understanding
International students account for 70% of the student body. All lectures are offered in English
Promote understanding of diverse cultures
Build a broad network with graduates around the world
Lectures by global leaders to learn latest issues concerned by international organizations
Learn development issues faced by developing countries and strategies to respond to them
Set clear career goals and plans to achieve them
Career counseling by staff of international organizations
---
To become Global Leaders working in the global arena
To Earn a Master's Degree in Global Leaders Career Course
Requirements for Master's Degree 30 credits + Additional Subjects 10 credits (*)
Individual Consultation to Design Career Plans [* Global Leader 1,3]

Guest speakers are senior staff of international organizations such as UNICEF, UNFPA, FAO and JICA. Through active learning including discussions with speakers, students acquire the qualities and capabilities that are required for working in international organizations.


Career Counseling by Leaders


Guest speakers provide students with individual career counseling sessions to support them in setting their future career goals and identifying skills necessary to realize such goals.
Acquiring Skills and Qualities Valued by International Organizations [* Special Lecture on International Development B (Global Career Development)]

Intensive courses by lecturers who have rich experiences in international organizations: delivering knowledge not only about international organizations' mandates and activities, but also how to design career paths and develop strategies for career development in accordance with each student's interest and expertise.


Guidance on interviews and resume preparation


Resumes and interviews which international organizations require are much different from those in Japanese style. To prepare for job applications, students will conduct mock interviews and resume-preparation exercises to gain self-promotion skills that are internationally acceptable.
Fieldwork in developing countries [* GSID Overseas Fieldwork / Preparatory Seminar for GSID Overseas Fieldwork]

The fieldwork provides students with opportunities to see and learn real development issues in developing countries. They spend about two weeks in a field site and learn project design methods and acquire communication and research skills in a group setting, interview skills, and writing skills. The preparatory seminar provides the basic information about the country of study, background of the field site and fieldwork methods.
Internship Experience [* Independent Overseas Fieldwork I]

Internship is the first step toward realizing a career path. Nagoya University has concluded agreements with many international organizations and thus offers various opportunities to gain practical experience. The outcome of the internship can be recognized for credits.


List of International Organizations that accepted interns from Nagoya University


UNESCO: United Nations Educational, Scientific and Cultural Organization
FAO: Food and Agriculture Organization
UNICEF: United Nations Children's Fund
UNFPA: United Nations Population Fund
IOM: International Organization for Migration
UNCRD: United Nations Centre for Regional Develop-ment
JICA: Japan Inter-national Cooperation Agency
Applications for entry-level positions at the UN through the Junior Professional Officers (JPO) Programme and Young Professional Program (YPP)
Matching job vacancies [Collaboration with international organizations to support their outreach events]

Recognizing the difficulty in searching for suitable job vacancies in desired organizations, GSID provides students with useful vacancy information and matching opportunities through collaboration with international organizations and GSID's extensive networks.

JPO

The Junior Professional Officer Programme (JPO) provides interested young Japanese professionals with an opportunity to work for an international organization for 2 years in principle with the financial support of the Japanese government. The purpose of this programme is to help Japanese youth gain work experience with a UN agency and opportunities to be recruited for regular employment within the UN system.

YPP

The Young Professionals Programme (YPP) is a recruitment scheme for motivated young professionals to start a career as an international civil servant with the United Nations Secretariat. It consists of an entrance examination and professional development programmes once successful candidates start their career with the UN.
Opportunities for career development and information exchange [Utilizing networks of GSID Alumni]

The network of more than 2,300 graduates from 94 countries/ areas supports students for long-term career development after recruitment.
Also, opportunities to join international seminars and joint projects are available to continue to support students' career development in the long-run.
---
Job Replacement of GSID Graduates
FAO: Food and Agriculture Organization
ILO: International Labour Organization
UNESCO: United Nations Educational, Scientific and Cultural Organization
UIS: UNESCO Institute for Statistics
UNDP: United Nations Development Programme
UNEP: United Nations Environment Programme
UNICEF: United Nations Children's Fund
WFP: United Nations World Food Programme
UNU: United Nations University
UNCTAD: United Nations Conference on Trade and Development
UNHCR: Office of the United Nations High Commissioner for Refugees
ECLAC: United Nations Economic and Social Commission for Latin America and the Caribbean
UNCRD: United Nations Centre for Regional Development
World Bank
ADB: Asian Development Bank
IOM: International Organization for Migration
Ministry of Foreign Affairs of Japan
JICA:Japan International Cooperation Agency
IOM: International Organization for Migration
etc.
---
Application Requirements
Have at least two years of work experience
Have a minimum score of TOEFL-iBT85
A limited number of students will be selected from among those enrolled in the master's program who satisfy the above criteria