New Security Threats and the Future of Economic Globalization
Since 1990s, trade and investment liberalisation had been the agenda of many, if not most, countries. Therefore, an increasing number of recent International Investment Agreements provide non-discriminatory and other obligations with respect to the establishment of investments. Now, the tide is turning. Increasing number of states are in the process of tightening the foreign direct investment (FDI) review schemes.
The new EU legislation establishing an EU-wide investment screening framework entered into force on 11 April 2019. In 2018, The UK amended the Enterprise Act 2002 to the effect of lowering the thresholds for the Competition and Markets Authority to have jurisdiction to review the transaction on competition grounds, as well as published a security and investment white paper setting out specific proposals for a stand-alone FDI screening system. Japan also amended the Foreign Exchange and Foreign Trade Act (FEFTA) towards tightening its inward FDI screening. In all of these cases, the concept of national security is employed to justify this policy shift.
Against this background, this inter-disciplinary (law and political science) research project deals with the increasing tension between economic globalization and security issues. It examines a hypothesis that the current trade and investment liberalisation framework, which draws heavily from the concept of 'national' security, has failed to address new security threats brought by rapid technological and social advancement.
These new security threats do not respect borders, and therefore cannot be controlled by a traditional, state-centred mechanism. This research project explores the possibility of establishing an international cooperation mechanism to address these emerging new security issues by identifying theoretical and practical challenges.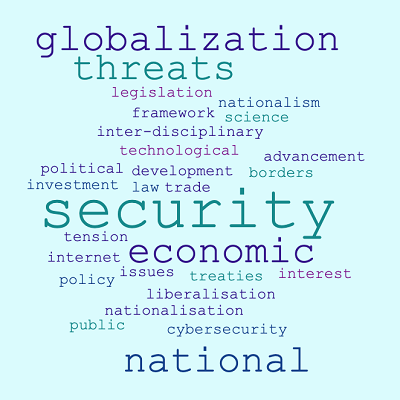 Research category

Fund for the Promotion of Joint International Research (Fostering Joint International Research (B))
Principal investigator

ISHIKAWA Tomoko
Project period (AY)

2019-2021