Messages from students and graduates
Cho Mar Naing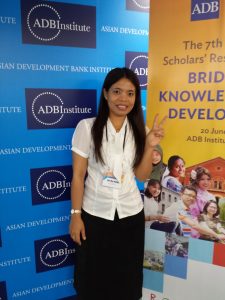 GSID is the greatest memory in my life. Talking about my acquaintance with international development studies or joyful moments with friends from different cultures and backgrounds, GSID always stands as an unforgettable experience for me.
It was great good luck that I became a master's student in GSID majoring international cooperation studies under the Asian Development Bank- Japan Scholarship Program (ADB-JSP) in 2013. During these two years in GSID, I would say I experienced the best moments in my life ever.
GSID pursues a multi-disciplinary approach to development studies. In the classrooms and seminars, the incredible expertise of each of the distinguished professors engages the students with a wide range of perceptions and ideas about development trends. The logically-structured courses in various programs can be said to be one of the most attractive and rewarding images of the school.
Shaping a multicultural society, students from different parts of the world spend their time together and share ideas and information within each other. In such a diverse and knowledgeable environment, I would like to say that GSID is one of the best places to study international development around the world.